"

If San Francisco is home to anyone approaching the abilities of a modern Jimi Hendrix, it's Eric McFadden." - Jimmy Leslie
— Guitar Player Magazine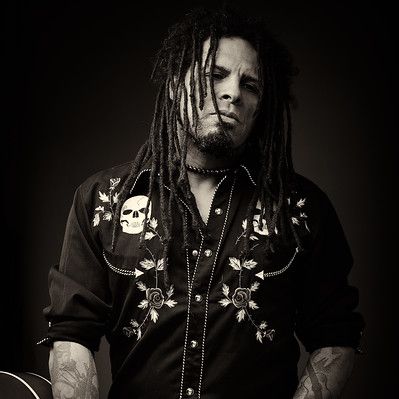 Hailing from the crossroads of the Southwest and the heart of New Mexico, Eric McFadden has crafted a rare and enticing brand of high desert blues and gritty, flamenco-infused rock that leaves listeners spellbound. McFadden's sound has not only charmed audiences all over the world, countless musicians have been taken by his inimitable playing and musicianship, with McFadden receiving invitations to tour with the likes of funk legend George Clinton, The Animals' Eric Burdon, and New Orleans sweethearts Anders Osborne and Tab Benoit. Right from the moment Joe Strummer spotted him in San Francisco, nicknamed him 'Lightning,' and gave him a gig opening for Strummer & The Mescaleros, Eric McFadden has claimed his place amongst the greats. 
Drawing from his multifarious musical experiences and influences, Eric McFadden has developed his own unique and meaningful voice as a songwriter and 2023 will be hearing much more of that voice. Honing in on a sound that's a rousing mix of Jack White, Django Reinhardt, and Jimi Hendrix, we can expect to witness McFadden as we never have before - as a wild talent harnessing his power, as a man settling into his skin. This is the year for Eric McFadden and every music lover should be watching out and taking notes.
"

…McFadden is a six-string virtuoso. His command of so many genres- is accentuated with meticulously crafted songs. There's the poppy twist on traditional psychedelia. Poetic yet sinisterly distorted punk. Rowdy rockabilly. Dark, foreboding grunge. His melodies hinge on seriously catchy choruses that resonate thanks to a crunchy baritone reminiscent of Tom Waits or the late Mark Sandman of Morphine…" - The Denver Post
Bands: 
Angry Babies 
Liar 
Sgt. Splendor
IZM 
Faraway Brothers 
Sophistakits
EMT features bass phenomenon James Whiton (Tom Waits) and drummer extraordinaire, Paulo Baldi (Cake, Les Claypool). Eric is also a member of the all-star band, Stockholm Syndrome, which also includes notable players such as Dave Schools (Widespread Panic), Jerry Joseph (Jack Mormons), Wally Ingram (Sheryl Crow) and Danny Louis (Govt Mule). 
Collaborations: 
Bo Diddley 
Keb Mo' 
Nels Cline (Wilco) 
Les Claypool (Primus) 
Fantastic Negrito
Leo Nocentelli 
George Porter Jr and Zigaboo Modeliste of The Meters 
Pat MacDonald (Timbuk3) 
Bernie Worrell (Talking Heads, P-Funk) 
Jesse Hughes (EODM) 
Bonnie Raitt 
Bill Kruetzman (Grateful Dead) 
Ron Wood, Bernard Fowler & Chuck Leavell (Rolling Stones) 
Pink 
Fishbone 
The Revivalists 
Pete Sears (Jefferson Airplane, Rod Stewart) 
Carla Bozulich 
Joe Santiago & Dave Lovering (The Pixies) 
Widespread Panic 
Jackson Browne 
Mike Watt (Minutemen, Stooges) 
Samantha Fish 
Karl Denson 
The Reverend Horton Heat 
Edward Sharpe & The Magnetic Zeros 
Steve Stevens (Billy Idol) 
Grace Potter 
Galactic 
Kate Vargas 
The Coup 
North Mississippi Allstars 
Tab Benoit
Anders Osborne
Dwarves
Stewart Copeland (The Police) 
Dug Pinnick (Kings X) ….  among others.